Well, Beth is turning into somewhat of a social butterfly... She ended up waking up at 8am this morning ... what a sleepy head...

Sharon was catching up with some friends (with their little kids) at 10am and invited us to come along, which normally, we probably wouldn't have gone to because Beth has her morning nap at that time... but since she had slept in so much, I decided it would be fun for us to go out again...

So we met at Sharon's place... When we pulled up in the car, as I got out of the car Emily was at the front gate and I could hear her calling out "Elizabeth's here... Elizabeth's here"... what a cutiepie!

Anyway, we took walked to the park (which is about a 10 minute walk... damn... it was good exercise in this heat! Emily "rode" her tricycle to the park... and I put "rode" in inverted commas, because it really meant, Sharon attached a strap to the handlebars and Em steers, and Sharon pulls her along... and then on the downhill parts, Em walks and poor Sharon carries the trike over her shoulder, because Em doesn't have enough control to steer it! Sharon is a superwoman I tell you! I just pushed Beth along in the stroller, which she was good about...

Got to the park and we met up with Gina and her two little boys Sebastian (3) and Gabrielle (9 weeks) and also Tracey and her two little boys Daniel (3) and Julian (13 months)... as had some morning tea of fruit and then the kids played on the playground ... even when it started pouring for about 5 minutes... Beth was pretty good... not overly adventurous... and I tried to put her in the swing which she hated... even though Emily wanted to push Beth in the swing... that was so funny. Got Beth to slide down the baby slide twice... which she neither loved or hated... probably bordered more on hating it though... but she did discover some abacus balls and the dirt... We had a great time... spent about 1.5 hours there and then got home at 12pm... Beth crashed in the car, so I transfered her to her cot and she's still asleep now.

I took some photos this morning at home at and the park... didn't take heaps at th park, because I was actually chatting with Sharon, Tracy and Gina and playing with the kids... but I took what opportunities I could...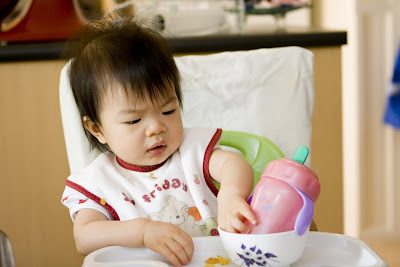 This morning, Beth thought it would be interesting to put her drink bottle in her bowl of cornflakes... hmmm... interesting...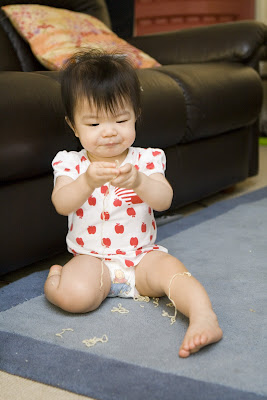 Then she begged some instant noodles off me
(which I was having for breakfast)...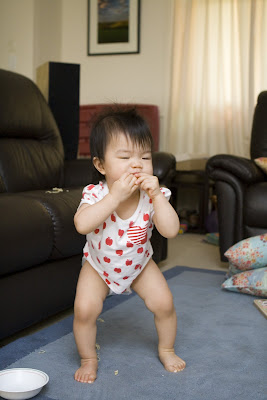 And decided to stand and eat noodles at the same time...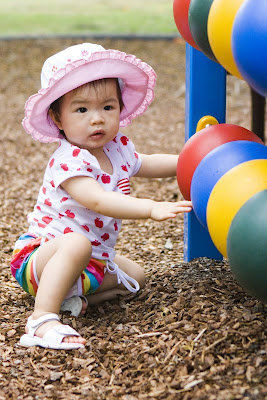 A day at the park...














I love the angle used in the photo...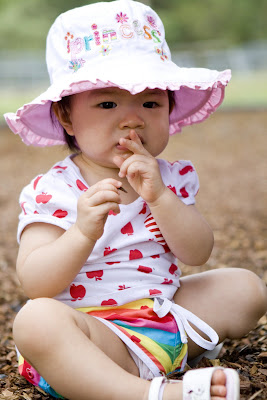 Discovering the taste of dirt...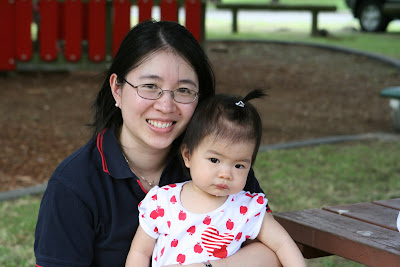 Not a glamourous photo, but the photos I have with her and me in them are far and few between...